Prevent Head Flat
Hand-eye Coordination
Perceived Ability
Motor Skills
Intestinal Motility Promotes Defecation
Color Perception
Visual Development
Promote Brain Development
Parent-child Interaction Enhances Feelings
As Show

Halloween

Christmas

merry christmas wall decor lumbar throw pillow cover throw pillow covers 18×18 christmas halloween party decorations for adults indoor christmas decorations halloween decorations fall throw pillow covers multifunction film storage rack cutter for kitchen halloween door decor office halloween decorations pre decorated christmas tree christmas signs for home decor new home christmas ornament 2020 blue throw pillow covers halloween office decorations kitchen christmas decoration

christmas decorations for home indoor throw pillow covers 18×18 christmas desk decorations christmas decorations outdoor yard rustic christmas ornaments 16 x 16 throw pillow covers room christmas throw pillow covers 18×18 lid storage rack organizer christmas decorations lights indoor halloween outdoor decorations cute christmas ornaments cute halloween decorations christmas party decorations christmas decorations for walls candy ornaments for christmas tree halloween trunk decorations

halloween decorations outdoor christmas mantel decorations halloween food decorations yard decor kitchen racks and shelves for storage ugly christmas party decorations travel storage organizer halloween decorations inflatables best halloween decorations baby first christmas ornament christmas truck decor christmas decorations tree halloween decorations animated christmas office decor baby girl first christmas ornament 2020 christmas tree decorations and ornaments red and gold

christmas decorations for wall cute halloween front door decorations christmas decorations outdoor laundry bag for bras funny halloween decorations zombie decorations teal christmas ornaments halloween decorations for office christmas light decorations sink tray drying storage rack halloween scarecrow decorations outdoor outdoor christmas decorations lighted skeleton halloween decoration outdoor christmas tree decorations christmas tree decorations and ornaments zombie halloween decorations

halloween decor halloween wall decor santa decorations christmas christmas deer decorations skeleton halloween decorations halloween bedroom decor ghost family Christmas ornaments halloween decorations lights harry potter halloween decorations christmas decorative throw pillows christmas deer outdoor decorations rose gold christmas decorations light up halloween decorations black and white throw pillow covers halloween bat decorations christmas table decorations centerpieces outdoor cute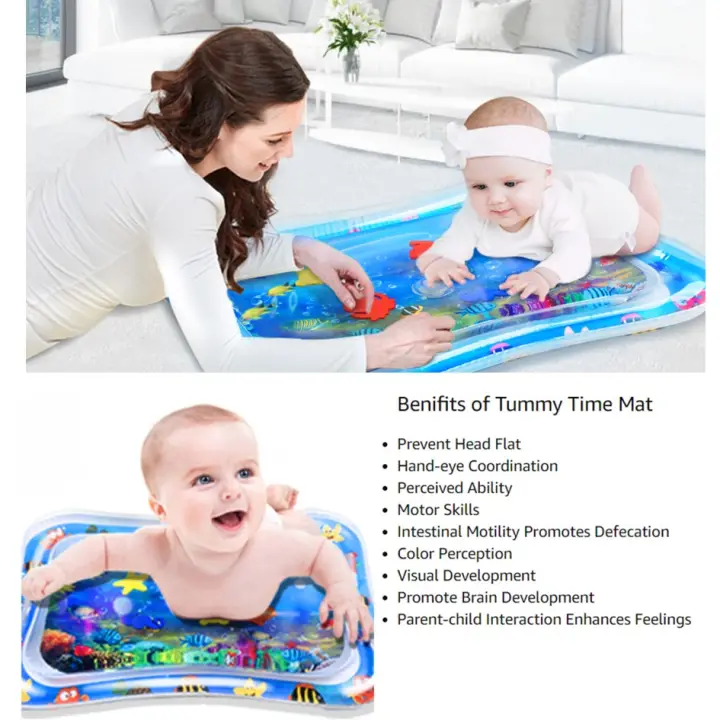 Feature
The perfect tummy time activity. "Tummy time helps your Infant build strength in his back, legs, arms and neck," preparing him/her to be ready to explore the world on their own
STIMULATES BABY DEVELOPMENT :The water fill is an essential tool for developing solid head, neck and shoulder muscles as well as honing hand-eye coordination, fine motor and social skills. It is a sensory delight that enhances brain development.
STUNNING, EYE CATCHING GRAPHICS Watch as your infant enters our fish tank , wide eyed and FASCINATED by the bright colors, sharp contrasts and cute floating toys. Rain or shine is tummy time! Your baby will try to catch and bat the brightly colored toys as they float by. This baby splash pad will provide hours of quality stimulating and healthy fun.
This baby splash pad will provide hours of quality stimulating and healthy fun.
{ A CINCH TO SET UP } Simply fill the outer ring with air and the inner mat with your desired level of tap water, set it on the floor and let the fun begin! It folds easily when empty into your purse or toy bag to bring along anywhere you go.
Enables learning about cause and effect, as the baby presses and moves the fish around from place to place
Lots of visual colors & movement which creates fun and excitement
Great for sensory stimulation, motor skills, cognitive abilities, and social skills
For ages 3 months & up. Products Dimensions: 19″ Tall x 26″ Wide Package Contents:
1x Inflatable Baby Water Mat Fun Activity Play Center for Children & Infants